Chihiro Art Museum Digital Guide
Enhance your visit to Chihiro Art Museum Tokyo with the free Chihiro Art Museum Digital Guide! Connect your smartphone to either of the networks listed below and scan any of the 38 QR codes located throughout the museum for additional information on artworks and museum activities. Audio guidance is provided in both English and Japanese while text guidance is offered in seven languages: English, Japanese, Korean (한국어), traditional Chinese (中文 [繁体]), simplified Chinese (中文 [简体]), Spanish (español), and Russian (русский).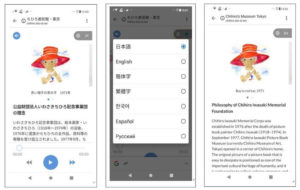 Wi-Fi Information
【1】SSID 
①Guide_Wi-Fi_11ac
②Guide_Wi-Fi_11bgn
【2】password
chihirowap2019
For additional information and a list of guidance content, please inquire at the reception desk.